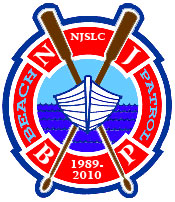 The New Jersey State Lifeguard Championship and Logo have bee Trade marked since 1998 by Walter Domanski. The name and logo can be used with permission.
Walt Domanski
Race Co-ordinator
215 West 22nd Street
Ship Bottom, NJ 08008
P: 609.339.5281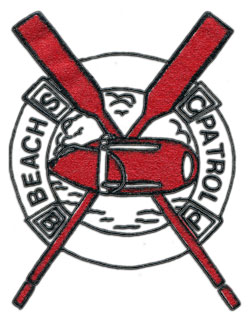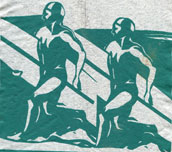 New Jersey State
Lifeguard Championships

TM
Long Beach Island's
2nd Longest Running Lifeguard Tournament
Hosted by Ship Bottom Beach Patrol
The NJ State Lifeguard Championships started in 1989 by the then Ship Bottom Beach Patrol Chief of Lifeguards Dennis Rose and Lt. Walt Domanski. It was to showcase the top beach patrols in NJ on Long Beach Island. The selection process included beach patrols that finished in the top 3 in previous regional NJ lifeguard races. All shore county's would be represented at the race.
The first year saw 14 beach patrols compete. By 1993 The Governor of New Jersey officially recognized the race as "The New Jersey State Lifeguard Championship".
Every year the Ocean County Freeholders recognize the participating beach patrols with resolutions & Proclamations. This is the only NJ Lifeguard race to have this unique honor.
Gov. Jim Florio was the first to formally present the winning beach patrol with a plaque. Atlantic City Beach Patrol which won the inaugural race in 1989 also won in 1993.
Over the years the race has changed from all relays to include events such as the prestigious doubles row. Since 2001 SBBP Chief Keith Stokes has been continued this LBI tradition.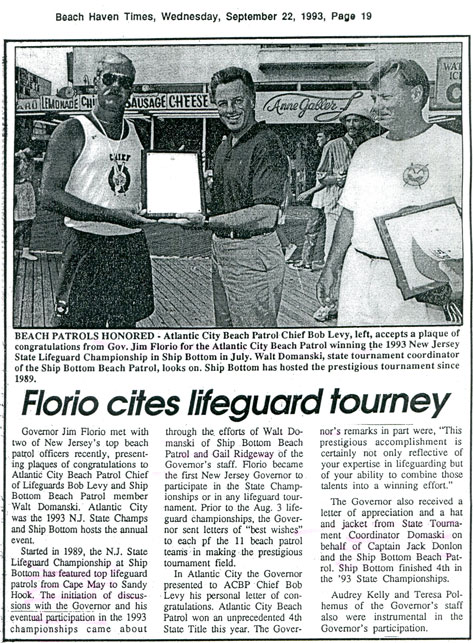 To be invited to the NJ State Lifeguard Championships, NJ beach patrols may qualify in several ways.
Win a regional lifeguard race or tournament.
Finish in the top 3 regionally.
At Large invite.
Of note, for 2010, 5 of the participating beach patrols all either won or finished number 2 in other lifeguard races. Ocean City beach patrol won the Cape May County Lifeguard Championships as well. The other beach patrols all placed in the top 3. All NJ County's were represented.
Atlantic City Beach Patrol won the inaugural NJ State Championship and then went undefeated for 4 more years. In all ACBP has 11 NJ State Titles. In 1991 Ocean City Beach Patrol also of the prestigious South Jersey Lifeguard Association, upset ACBP for the title. The first Championship, held on 20th street, had over 1000 spectators watching the teams. This past year 2010, over 400 spectators watched making the NJ State Championships one of the most watched summer races. ACBP dominated the 1990's winning 7 titles. In 1996 Ortley Beach Patrol from north of Seaside Hts. Won the title. In 1999 Sea Girt BP from Monmouth County became the first northern beach patrol to win.
In 1998 the name NJ state Lifeguard Championship and logo was Trade Marked by co-founder Walt Domanski, a former beach patrol Chief and lifeguard officer with 26 years of experience. Several NJ beach patrols have wanted to host the annual championship but they remain in Ship Bottom. Rick McDonough, Head Judge has served in this role for 4 years now.
During the 1999-2001 races, several changes were made to include non relay races. Thus making it fair to all beach patrols.
A unique feature in the NJ State Lifeguard Championships is the Exercise Tiger/Walt Domanski Sr. Memorial Race. The race now in its 22 nd year is usually a boat swim race and is named in honor of the WW II pre D-Day sea battle code named "Tiger" in which 1000 US troops were killed by German Navy warships. Domanski Sr. was a NJ and local LBI hero of the battle and did artwork and beach patrol logo's for various beach patrols in the "70's and 80's. This is the only such race of its kind in the United States and also honors troops serving in Iraq and Afghanistan as well. The winners and top 3 finnshers in this race get special plaques from the Exercise Tiger Foundation. For more info go to www.exercisetiger.org .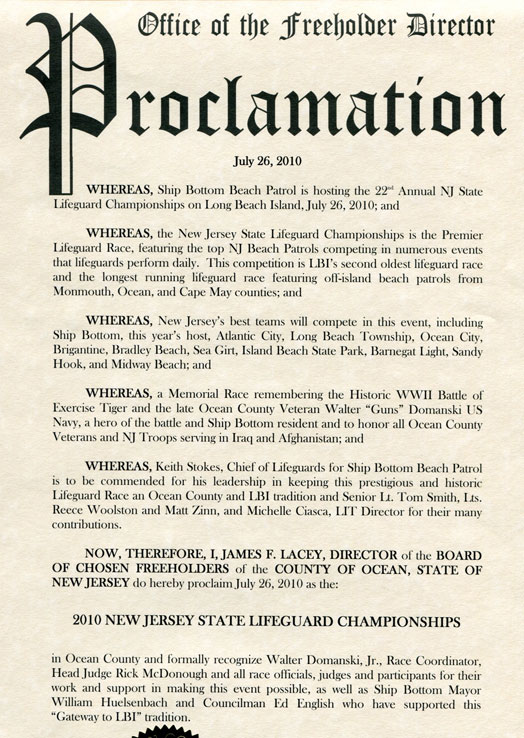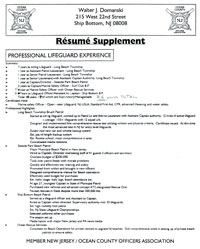 Walt Domanski, a former Chief of Lifeguards at Seaside Park Beach Patrol and former Asst. Captain at Long Beach Twp. Beach Patrol co-founded the annual race. As a former Ship Bottom Beach Patrol Lt. under several Chiefs, Domanski serves as the race coordinator. Domanski, considered one of NJ's top lifeguard officers in the 1980's and 90's has over 26 years of beach patrol experience. His Lifeguard resume is below.
Please click here for my resume.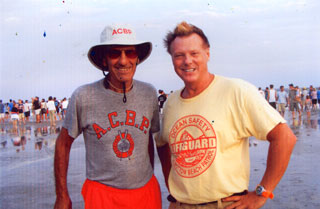 ACBP Deputy Chief Art Brown at the 2010 South Jersey Lifeguard Championships with NJSLC Coordinator Walt Domanski. Ventnor, NJ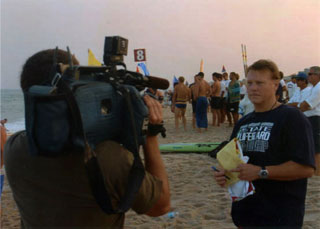 NBC TV sports covers 2008 NJSLC.
Walt Domanski, Race Coordinator gets interviewed.
Photo Credit: Jay Mann
Race Coodinator Walt Domanski tells viewers about the race as Brigantine Beach Patrol launches their surf boat in background.
Photo Credit: Jay Mann
Johnny Skolnick of SBBP races to the finish to the finale of the 1500 ft paddle race at the 2010 NJSLC.
Photo Credit: Jack Reynolds, Sandpaper
Barnegat Light BP's Nate Humberston exits the water to take first place in the paddle, followed by SBBP's Johnny Skolnick.
Photo Credit: Jack Reynolds, Sandpaper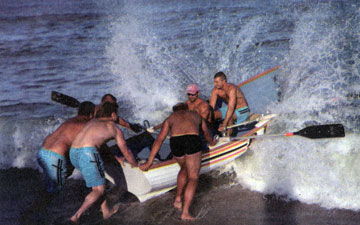 BLBP Launches their surfboat in the Iron Man Medley.
Photo Credit: Jack Reynolds, Sandpaper